Famous love letters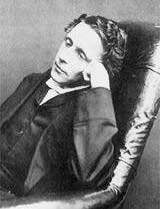 Famous love letter by Lewis Carroll
Christ Church, Oxford, October 28, 1876

My Dearest Gertrude:

You will be sorry, and surprised, and puzzled, to hear what a queer illness I have had ever since you went. I sent for the doctor, and said, "Give me some medicine. for I'm tired." He said, "Nonsense and stuff! You don't want medicine: go to bed!"

I said, "No; it isn't the sort of tiredness that wants bed. I'm tired in the face." He looked a little grave, and said, "Oh, it's your nose that's tired: a person often talks too much when he thinks he knows a
great deal." I said, "No, it isn't the nose. Perhaps it's the hair." Then he looked rather grave, and said, "Now I understand: you've been playing too many hairs on the pianoforte."

"No, indeed I haven't!" I said, "and it isn't exactly the hair: it's more about the nose and chin." Then he looked a good deal graver, and said, "Have you been walking much on your chin lately?" I said, "No." "Well!" he said, "it puzzles me very much.

Do you think it's in the lips?" "Of course!" I said. "That's exactly what it is!"

Then he looked very grave indeed, and said, "I think you must have been giving too many kisses." "Well," I said, "I did give one kiss to a baby child, a little friend of mine."

"Think again," he said; "are you sure it was only one?" I thought again, and said, "Perhaps it was eleven times." Then the doctor said, "You must not give her any more till your lips are quite rested
again." "But what am I to do?" I said, "because you see, I owe her a hundred and eighty-two more." Then he looked so grave that tears ran down his cheeks, and he said, "You may send them to her in a box."

Then I remembered a little box that I once bought at Dover, and thought I would someday give it to some little girl or other. So I have packed them all in it very carefully. Tell me if they come safe or if any are lost on the way."

Lewis Carroll
---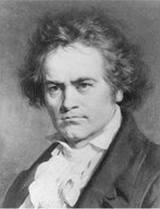 Famous love letter by Ludwig van Beethoven
Ludwig van Beethoven (1770-1827), one of history's most famous and mysterious composers died at the age of 57 with one great secret. Upon his death, a love letter was found among his possessions. It was written to an unknown woman who Beethoven simply called his *Immortal Beloved.*

The world may never put a face with this mysterious woman or know the circumstances of their affair and his letters are all that is left of a love as intensely passionate as the music for which Beethoven became famous. Compositions such as the Moonlight Sonata as well as Beethoven's many symphonies express eloquently the tragedy of a
relationship never publicly realized.

July 6, 1806

My angel, my all, my very self -- only a few words today and at that with your pencil -- not till tomorrow will my lodgings be definitely determined upon -- what a useless waste of time. Why this deep sorrow where necessity speaks -- can our love endure except through sacrifices -- except through not demanding everything -- can you change it that you are not wholly mine, I not wholly thine?

Oh, God! look out into the beauties of nature and comfort yourself with that which must be -- love demands everything and that very justly -- that it is with me so far as you are concerned, and you with
me. If we were wholly united you would feel the pain of it as little as I!

Now a quick change to things internal from things external. We shall surely see each other; moreover, I cannot communicate to you the observations I have made during the last few days touching my own life -- if our hearts were always close together I would make none of the kind. My heart is full of many things to say to you - Ah! -- there are moments when I feel that speech is nothing after all -- cheer up -- remain my true, only treasure, my all as I am yours; the gods must send us the rest that which shall be best for us.

Your faithful,
Ludwig
---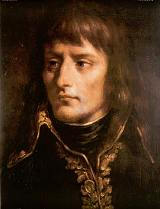 Famous love letter by Napolean Bonaparte
In addition to being a brilliant military mind and feared ruler, Napolean Bonaparte (1763 - 1821) was a prolific writer of letters. He reportedly wrote as many as 75,000 letters in his lifetime, many of them to his beautiful wife, Josephine, both before and during their marriage. This letter, written just prior to their 1796 wedding, shows surprising tenderness and emotion from the future emperor.


Paris, December 1795

I wake filled with thoughts of you. Your portrait and the intoxicating evening which we spent yesterday have left my senses in turmoil. Sweet, incomparable Josephine, what a strange effect you have on my heart! Are you angry? Do I see you looking sad? Are you worried?... My soul aches with sorrow, and there can be no rest for you lover; but is there still more in store for me when, yielding to the profound feelings which overwhelm me, I draw from your lips, from your heart a love which consumes me with fire? Ah! it was last night that I fully realized how false an image of you your portrait gives!

You are leaving at noon; I shall see you in three hours.

Until then, mio dolce amor, a thousand kisses; but give me none in return, for they set my blood on fire.
Love, romance and relationship quotes for your soul
'Life without love is like a tree
Without blossom and fruit.'
~ Kahlil Gibran
'A successful marriage requires falling in love many times, always with the same person.'
~ Mignon McLaughlin
'Other men said they have seen angels,
But I have seen thee
And thou art enough.'
~ G. Moore